2004 Summer Tour of New York in Memoirs Of Marcine "Niyawehnsie" Quenzer Life is a journey from birth until death. What kind of journey it is becomes our individual truth. HER STORY

Back in September of 1986, an encounter with a Satanist left me in serious peril. He called forth agents of Hell. He said that I must be pretty important as the head guy had sent his first General. The General offered to make me Mother of Nations of dark design where people became spare parts. It was creepy although just the foreshadowing of many of the robotic advancements that we now have for amputees. I did not like what I was shown and refused. A spiritual battle ensued, with me sending the General back without me. The encounter left me feeling spiritually raped, pillaged and sooooo stupid, I no longer trusted my own thoughts let alone my decisions. Unable to move in any direction, I continued to sink in depression not knowing where my five children were or how the bills were paid. I was afraid to answer the phone. My 12-year-old daughter reminded the kids to be quiet Mom was dying. A year later, voices urged me that I was taking up space. I was useless. I was worthless. Everyone would be better off without me. Selfishly, I needed my kids and I would not let go. Then from somewhere I heard, "No I am not. I AM a survivor. I can do this." I crawled out of bed. An altercation with my oldest son where he folded into fetal position and allowed me to pummel him, sent me into shameful retreat, as I jumped into my car, and drove to the mountains. I had to get a handle on me.... September 9, 1987 Here I challenged God as I was not leaving without an answer, pleaded with God....... And heard Him reply. I mean someone really answered me, loud and clear. So began a journey into healing. That very day, I was given teachers. And I attacked healing with all the determination and skill that I could as I acquired self-healing knowledge. I learned that life was a choice not haphazard result of life. One did not have to let life bounce you around.... you could choose. Here I learned to be a spirit healer and channel for Ascended Masters. Divorced since 1980, I was raising five children by myself. Their father was a musician and rarely dropped by. I did have my own business but it was barely making it. Now, as I was pulling my life together things were changing. I included the children in my spirit quest and the money situation was easing considerably.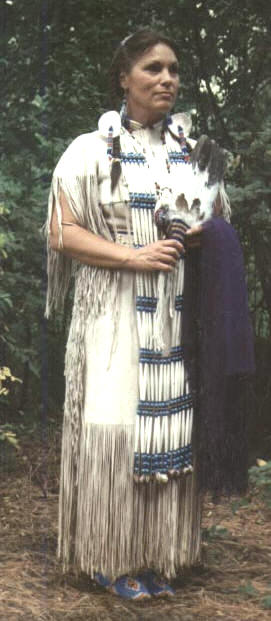 A year into a healing path, Dec 3 1988, I met an Oneida man, John James. 12 years since the divorce and I had given up on the prospect of finding someone in my life. I was at the Christmas show with my art display when this tall lanky Indian stopped to look at my paintings. Dressed in his starched shirt and levis, just his presence made my heart do flip flops. We exchanged a few words and he left. ….. Soon he was back. He said that I was a great artist but I did lousy subject matter. "Oh yeah!" I thought but instead I asked sweetly, "What I should be doing?" He replied "Indians". And I said, "I don't know anything about them." He replied, "I'll teach you." He asked if I was single and I asked him if he was single. And that was it. I found him to be the most exciting man I had known. Spirit told me that he walked in the footsteps of Hiawatha. Shortly, I learned that Hiawatha was a real person in the Iroquoian history. For some reason this ignited a compulsion in me to know more and the more I learned the more I wanted to know. In 93 we moved to Oklahoma, his home town of Wyandotte. By this time, I had found I was with Jackie Michael King. Trouble with the law had caused him to change his name and at the time I met him, he was broke having just been released on probation. I believed what he told me. What he had in material possessions, was not important to me as we could build something together. I sold the business and mortgaged the house to the hilt and we bought 7 acres in OK. We renovated an old supper club on the property and started a cultural center and museum in 95. In all I spent some $75,000 which in those days was a hefty sum for a mother with five. The museum was a labor of love and creation for me. I had many artifacts from Jack and his family and I had a few of my own. I painted to illustrate the many beautiful stories that I learned so that I could share them with visitors. This was borne out of the need to try to educate and share truth in a racist world. I could not believe that in this day and age, old myths and lies still surrounded the Native American in his own country.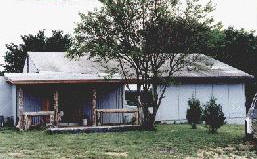 In the culture center we taught young people to stomp dance, pow wow dance, shake shells, sing and drum, bead and helped them get ready to join the Dance Circle. Daniel Dru, Cheyenne Drum maker, made a drum for us and dedicated it to the four colors of mankind and the four directions. How perfect for our Center, for anyone who wanted to learn was welcome. Later our kids would win pow wow drum contests and a group of them would go to the Winter Olympics in Salt Lake to share Iroquois social dances. I love the kids. Often they would dance until 1 AM even on school nights. I thought how refreshing that these young people would rather be dancing and singing ancient songs rather than anything else young people their age could be doing. I loved it. I loved the people. Two stand out in my mind: Yvonne Perryman, Seneca and Mohawk, is a natural born leader, and a Kiowa boy, Scott Momaday, who could sing those Iroquois Stomp Dance Songs like he had been doing it for 100 years. Our website waswww.PHWDS.com for Painted Horse War Dance Society, our non-profit.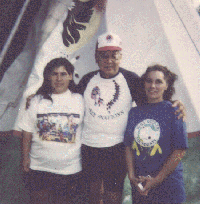 I was adopted Seneca in August of 1993 at Green Corn, into the family of Amanda Greenback, Seneca Deer Clan with Hubert Sky, Six Nations, officiating. Grandma Mandy "owns" the visitor's camp at the Ceremony grounds and has held it for 60+ years. This family took me in and I participated in ceremonies, memorial dinners, and I learned from Jack to bead, do feather work, make hard sole moccasins, how to clean an Eagle and take care of it and just lots of stuff. Jack was an excellent teacher and I was a good student. And I continued to learn about the path of Hiawatha. In fact shortly after opening the museum in 95, Richard White, our ceremonial leader brought to us a carved stick. He said it was very old and they had been using it for stirring ashes and game pointer. They no longer remembered what it was for. Because it was so old, he thought our museum was the best place for it. Shortly after that, Jake and Yvonne Thomas visited our place. Jake was the last of the Condoled Hereditary Chiefs of the Cayuga who knew all five Haudenosaunee languages and the Ceremonies of the Longhouse. Jake knew the importance of "saving" the culture. His life was dedicated to preserving all that he had been taught. To have him here was such an incredible honor.... and fortuitist. He gave us a two-hour dissertation on the "condolence cane". Once again the added knowledge about Hiawatha's path fueled now a desire to create a series of paintings.... something I would think about for years. I only wish he would have had more time to spend with us. What a fountain of knowledge and what could have been learned. When they left, his beautiful wife Yvonne left with me several of Jake's compilations, more to absorb. In 1997, I had gone to an Elders meeting with some girlfriends. Jack was not happy about it. He discouraged all contact with anyone doing Indian things out of what he prescribed as "normal", because he would tell me "real" Indians didn't meet like that. When I got back that evening, and when we went to bed, I could see two 6 foot black figures with red eyes and huge leathery wings hovering over the bed. I was experiencing the black whirlies, the feeling of being sucked down into nothingness. I was scared to death. I told Jack about them and he held me until he went to sleep. I thought, "some medicine man, he can't even see these things." As soon as he went to sleep, I got up and went to the Center. Here I called a woman that I had gotten a number for just within the last week. She was a light worker. I called her. By now it was midnight. She answered. Then she talked me back into the Light until day break. In those days, everything two miles away was long distance charges, and this woman was in Arkansas. If Jack saw that phone bill he would kill me. I had no idea how I would explain it. In fact, since he controlled the money, I didn't know how I would pay for it. He would find out one way or the other, but at the moment, I could figure out anything but hiding the bill. I made sure that I got to the phone bill first. I didn't know how I was going to pay it, but I could not let Jack see it. The phone call was not on there. Nope. Not on there. Over the next year, my health failed. Jack would tell me I was talking gibberish and to go to bed and rest. I would be so tired, but he didn't seem to mind. I would end up in places where I didn't know how I got there. I had time lapses with no memory of what happened. Jack one day put his arms around me and told me that he would be with me until the end. There was plenty of time for him find someone else later. I thought that sooo sweet of him. But I knew I was in trouble. So I went home to Idaho. My healers in Idaho could not see what was going on. Now what was I going to do? Ron Wahwahsuck was living in Boise so I called him. Ron I met at the same time as Jack. He woke up from a drunk and had found himself at the doorstep of Apache Medicine Man Bill King in Tuba City and had spent the next 10 years working and studying with Bill. Right away, he said, "Marcine you are in trouble." I said, "yes I know." His mentor Bill King was coming through Boise that day, so they would come over. Later I learned they thought they would do a pipe ceremony for me, but after getting there, Bill and Ron sat on my lawn chairs with sun glasses on. I could not tell what they were doing. Finally, Bill told me what I already knew. "He can see it! He can see it!" I thought. Bill said that I had to do a medicine sweat. I had to come to Arizona. In 30 minutes, I was in the car with Bill and headed to Tuba City. Funny how those "things" become a part of you, and you don't even realize it. On the way down, I kept thinking that Bill could be a murderer, and I could get chopped up in little pieces. Then I would intercede and say to myself, "NO this is Ron's friend. If Ron says he is okay, then he is okay". Then some other scary thought would invade me, and once again I would have to say, "no Ron says this is what I should do". the whole time, I am hugging the door like it was part of me. If at any time, Bill would have said "Boo" to me, I most likely would have jumped out of the car. Finally, we get to his home with his wife and at the time 8 kids. The sweat takes 4 nights. The first night was like going to the doctor. Bill assesses just what the problem is and how to work it. That night, I didn't get any sleep for the imps jumping around on me all night. They knew they were on their way out and they were pulling out all the stops to get me to run or back out. The second night, we went in. Bill had told me how the heat would burn if you moved, so I sat perfectly still. In these sweats everyone prays out loud for everyone but themselves. So the sweat lodge was two deep with people who had come to the sweat to pray for me. They didn't know me but here they were praying for ME. In the middle of the event, I felt two hands on the top of my head. "In the name of Jesus Christ, I command thee out Satan." A Christian minister had joined us this night, and he sat way in the back near the door. I wondered how he could reach me and visually I saw two rubbery arms stretching to reach my head. Then I realized he probably was standing on top of the pipe carrier sitting next to me. "Uhmmmm Jesus is welcome here. Well cool." And I think I relaxed a bit. When the sweat was over, Bill helped us out of the lodge. I have never seen such a look of unconditional love on a man's face as I did Bill's in that moment. I crawled out and went around the sacred fire to take a place. As I did so, the Universe expanded and I with it. In total amazement of the clarity, and expansion, and hugeness, and ... I drew my hands to my face in awe...... sand .... sand... all over my face. Bill started laughing. The pipe carrier next to me said you should check your ears. Sand. Sand everywhere. Bill commented, " Yeah it didn't want to come out. It kicked and fought and threw sand all over. Later Ron would tell me that my husband had put medicine on me, but I reasoned it was "love" medicine, and the silly man didn't have to do that, because I loved him. What Ron was telling me just was not registering. So I went back to Jack and Oklahoma. And Jack was Pissed. I thought it was because I took off with a medicine man to Tuba City. In June, 1999, Jack and I both were adopted into the family of Maude Smith by "brother" Leonard Catfish Smith. It was done in the old ways adoption ceremony at Elder's Celebration. We exchanged gifts. Cat's wife Dusty had made me a beautiful fuchsia shawl hand painted with all kinds of sparkly paint with hummingbirds. Up to now, our lives together had been idyllic. I had heard the "stories" about Jack and his mafia connection but discounted them as a legend bigger than life. Besides Mafia is Italian, they don't have Indians in it. I had not seen that side of Jack and did not believe any of it. It had to be the stuff legends were made of. We pow wowed, stomp danced, and sat at home making Indian stuff. It was a great life, and I was totally immersed in it. Only by now Jack's eyes were getting so that he could not bead. He had taken to having me make the items and taking credit for them. I was honored that my beading was that good. In Dec. 1999, the tribe started a Cigarette factory. Jack said he wanted to help the people and decided to become a wholesaler. I did books but was just recovering from Fibromyalgia (the sweat had reversed things and I was getting better) and the books were a terrible struggle for my mind. So I took a delivery route. We were struggling. Oklahoma had been hand to mouth since coming here. I had a 2100 sq. ft. brick home in Idaho and a Business that manufactured acid free envelopes for artist's limited editions. This business, ProfolioTM was making $150,000 by the 8th year of business. So I had plenty of money in Idaho and shared it liberally with Jack. In fact, over the 5 years, I bought him several businesses. I stocked his Indian store, called Indian Territory and bought him a concession stand we dubbed the Buffalo Stand. I also bought into a smoke shop in Bartlesville, Oklahoma to the tune of $12,000. And then I paid for all the expenses of our non-profit, The Painted Horse War Dance Society, Inc. So I was doing OK. I sold the business, mortgaged the house and used the money for Oklahoma. However, once I moved to Oklahoma, they quit payments and I lost them both, so the struggle here was tuff. I cooked four meals a day for Jack for four years on an electric frying pan before my mother bought me a new gas stove. In 2000 my baby daughter bought me a car. My pickup had died in 99 and Jack had promised me a car but he did not keep his promises. Soon after we got involved in the cigarettes, Jack started gambling and had a major personality change. Suddenly he was incredibly jealous and suspecting me of all kinds of things. Once he jumped me for putting the butter on the wrong side of the toast. I felt like all his unfinished business, that stuff he would not look at and heal, was catching up to him as he was approaching 70. He was getting mental on me and there was nothing I could do. He began to envision himself as the "old Jack King", the Jack King who had been a Mafia Hit man and sentenced to 23 years in the Black Canyon Federal Prison but was released on Witness Protection for the conviction he helped Feds make on Jimmy Durante of Kansas City. Jack wanted that life back, and I didn't fit into it very well. I didn't like the way he conned people out of money and then threatened them with "disappearance" if he didn't get his way. Goodness knows, I heard that from him a lot at the end. I even got him on tape saying he would off me if I didn't sign the company over to him. But I am getting ahead of my story. Things continued to get rocky between Jack and I. He would stay out all night, come in at 10, then take it out on me. One day he came in furious because I had talked to a friend of his. He slapped me and shoved me down. I told him that if that was the way he was going to act. He could just leave. He did. Next door into the unfinished trailer we were working on. He was gambling a lot with an Indian buddy. From what I heard, he lost a lot too. Too vain to wear glasses so he could see his cards. But the Jekyll and Hyde was wearing thin. Eight years in Oklahoma and against this background for the first time in my life, in spite of being a hollow bone so to speak, and spirit healer, I witnessed the synchronicity of spirit and the movement of spirit when it is time. I often wondered what my purpose was. I knew I was extremely gifted and I knew those gifts had a purpose. I felt stuck on a shelf and I did not know how to get off. In October of 2001, I was offered a grant in an email. I wrote it and sent it in November. The day before Christmas, I was notified I gotten it. I now had 6 weeks to create the story and 7 paintings of my favorite subject, Hiawatha's Path, "the Good Message for the Good Mind" and present it at the Winter Olympics in Salt Lake City, Utah. In February 2002, I arrived in Salt Lake with a completed project. However, I had no place to stay. 9/11 had frightened prospective Olympic goers and though the hotels were empty, they were sold out so I spent two nights in my car with 8 inches of snow outside on some back street near a warehouse. Then I was given a place to stay. This Sally who took me in, asked if I wanted to go to her mediation group. Once I had 65 people in a group in Boise and presently had maybe 6 in Joplin, Mo. They were my salvation to stay in spirit work and keep my energy up so I jumped at the chance to go to someone else's group. On the way there she asked if she had told me what they were doing. I said no. She explained that we were headed to the mountain just above the Five Olympic Rings on the mountain and there we were to rendezvous with an Intergalactic Federation Mother Ship. (Excuse me but OH SHIT! Hey, I ignore them, and they ignore me. I thought we had an agreement). In the dark, I was the 12th human to huddle in the freezing cold on the mountain side waiting for the Mother Ship to appear. We were wrapped in quilts, sitting on tarps, while Elizabeth sang this incredible Native song, her sweet voice cut through the darkness creating a longing for something... it's there in the spirit banks, elusive but remembering and somehow I knew her song...... and Victoria, a second generation ET contact person, explained the situation and then two humongous lights came on overhead........ hung there in the silence of the night......... blinked three times...... and disappeared into the dark clouds hanging over head. Jim then channeled a message where we each received a whirling rainbow energy, the ET's had dubbed a "Peace Virus". Sorry, no photos of this event!!! LOL I had shared the story of the Peacemaker with the World....at the World's Winter Olympics. TV cameras and radio stations set up in front of my display...... and pointed the other way........ When it was time to go home the only thing I had to take home with me besides the experience was the "Peace Virus".... Not $$$$$. But Spirit had totally taken care of me……. synchronicity made manifest. I now had a testimony of this principal. When I got home, jealous tension between Jack and his cousin who worked for us caused me to fire the cousin and I took over the management of the company again. At first I had time to paint and I added 3 more paintings to the Great Laws Series as I had come to call the paintings I was doing about Hiawatha's Path. But I did the books and ran the wholesale company and the smoke shop and added an internet mail order smoke shop. The company was owned 100% by me. A year later, we were making about $14,000 clear a month. We owned 5 cars, a pickup, the seven acres, two trailer homes, an art studio, and the Center and two Smoke Shops.... around $2 Million, free and clear. I was putting in 14-16 hours daily. There was no time for painting but I was meeting the non-pow wow crowd and my neighbors, making friends. And I moved back in with Jack in the new trailer when I got back from the Olympics. He and his gambling buddy had gotten crosswise and were not gambling now, so I had my sweet Jack back. He was buying me presents, and being ever so wonderful. Every argument we had was started by him, and now that wasn't even happening. In January 2003, my youngest daughter and her man came to Wyandotte to go to school. They moved into my trailer as Jack and I were living in the trailer that we had just finished remodeling and mine was empty. The kids found one of the best vo-tech schools in the nation not far away. I was thrilled to have them there. Jack was starting a new business that would keep him away for long periods and I was still stinging from his personality change, and I really did not mind having him gone. I was tired of never knowing if I was going to incur his wrath over any little thing I did. I was thrilled my daughter came to stay with me. I was glad to have the company as well as the help. The timing was perfect. In March my female she-wolf delivered 4 puppies. This was an event we looked forward to. Gigahgo loved her puppies. She was the happiest then, grinning so hard that her toothy grin had dimples. The night the puppies were born, both my daughter and I woke up at 2 AM and cried as though we had lost our best friend. We never made the connection. Gigagho and I were soul mates. I read her mind. We were one…. Only now with 14 hours a day in the smoke shop I was too busy and I looked up to see she had grown tired of waiting for my attention and was leaving. I did not call out to her. Later I thought. Her side had been covered in dried blood. She did not smell pleasant. I thought it was the dried blood on her side and wondered in a passing thought why she had so much and did not clean herself up……. My daughter comes in....... " Mom we have to take Gigahgo to the vet. She's not doing good." Suddenly whatever I was doing was not important. We rushed to get her there. Most vets were on cattle calls here in rural Oklahoma but one would see her. He hooked her to IV and the he left for a cow. We sat with her. We merged minds and she showed me she was ready to go. She did not want to live if she could not have cubs, it was a decision she had made the night they were born. She showed me another that would take her place and momentarily I was elated at the prospect of a new wolf which would eventually be given to me by Lynn Windwalker. Then we left to get something to eat and hurried back. She was gone… gone while I left. I had deserted her at the last moment… and a single tear lay in her eye. Food could have waited…. It could have waited……Haunting to this day. The puppies were sick, had trouble eating and covered with scabs from Gigahgo's inter-uterine infection but my daughter saved them. She had to invent ways to help them eat. Gradually, they got better and the scabs all over their little bodies went away. Evidently, the infection Gigahgo died from, she had had for quite some time. One, Shayla, was special. I felt that this was the one Gigagho had chosen for me to replace her. One from Lynn was a nice gesture, but not the same as one of Gigahgo's. Jack was away at his new business venture in Missouri. A neighbor, Leroy Howard, used his back hoe to dig a spot next to her mate Oti in the rocky soil. We had ceremony and buried her in an Indian blanket with one of my big eagle feathers. When Jack called, I told him. He said he was sorry and, "I love you." That was the first time EVER he had said that. I thought maybe he really did. In June, I visited the Joplin Mind, Spirit Body Fair. Blue Bear, a reader there, while talking to me told me my husband had a new woman. I did not believe him. After 15 years and as hard as we worked to make something happen, he would not do that. It is just a summer fling because he is 70. He has to find out if he still has "it". A month later, Blue Bear was on my door step. He said, "Marcine, you are in trouble and I have been sent to help you. You are swimming in a dark molasses, and there is a black faced dog soldier guarding you. Your husband is doing black medicine on you and you will never get away from him without help. I put tobacco down to keep you safe, but he will see it and know something is up. I can help protect you for a week but in that time you have to find a woman with Bear Medicine to take this stuff off of you." Wow, I didn't know that could be done. I mean really, mind control medicine? wow. Is that why I have put up with so much selfishness on his part, and glad to do it? So I sought out a Cheyenne Medicine woman. Jack had told me she was a witch, but in acquaintance, I had no one else to turn to. So I asked her if she had Bear Medicine. She brought it out and combed the molasses energy off of me. In September, Jack suggested that we bring his daughter down to take over the cigarette business so that I could paint full time in the studio. I agreed, and so she moved her family into the trailer we had just remodeled, and I signed the necessary papers so that she could do business with me. We moved to the new apartment that we had just finished building in the back of the new smoke shop so she could have the bigger trailer for her family of four kids. Shortly after this, things unraveled fast. Second weekend of September, Jack brought his younger woman to the Wyandotte Pow Wow and paraded her around with her short shorts, and tiny top. If she would have had any boobs, they would have been hanging out, and him dressed in his college clothes shorts with his black socks and dress shoes. What is he thinking? Someone said, "No fool, like an old fool" but it was unbelievable. People were laughing already.... but I wasn't really for sure why. Jack had brought his younger woman home, put her in our bed. He threatened to "off" me if I did not sign the bank accounts and business over to HIM. I had already signed for his daughter Libby but that was not good enough. He wanted only his name on everything. I was locked out of the Center and the Business. I had moved into the trailer that my daughter was living in, next to the newer refurbished one that Libby now lived in. Every time I stepped out, I was faced with confrontation with Libby or with Jack, and the girlfriend sitting on her butt smoking away like a chimney. Jack had cut my phone lines at the pole so there was no calling for help, or using it to look for another place to live. It took two weeks to get the phone turned back on, and Red would only connect it if Jack said so. Then the answering machine would have Libby's hatefulness on it, saying how she was going to call the cops, and the Feds, when it was she who was stealing my mailed checks, and my business, and on and on. That woman does have a mouth. During this time the wolves took to sleeping around the house trailer that we were in. They spent less and less time with Jack. One day, I ran into Lynn Windwalker. She said, "Where did you get that great big grey wolf that is hanging around your place?". "We don't have a big grey wolf." I told her. "Yes, you do, I saw it." "No ours are all white except for Honey Moon, but you gave her to us". At that time, Honey was but 6 mo. old. "No you have a big grey wolf, and I mean BIG, protecting you there." "oh PROTECTING US, that is different." My 96 Intrepid had hit a deer. My name was on two business vehicles but Jack would not let me have one. My lawyer said it would take court action to get my car, so I borrowed from my mom and got a Taurus wagon on September 28 2003. When I got home from buying the car, an eviction notice was attached to my art studio, and my trailer. He locked everything up, and just literally threw me out without a penny. In one week's time, I lost my home, my business, my friends, my museum, my center kids, my husband, my community…... and my new puppy Shayla. She disappeared only to show up the day after I left OK. In one week, he had bullied, extorted me, threatened me, and moved his girlfriend into our bed and locked me out…. and gave my puppy to this new woman, the one Gigagho gave to me. In a moment of compassion, he let me have my art out of the Museum but he had his son-in-law watch everything I took…… I never expected it to come to this. I never expected it. I lost 20 pounds. As word got out what Jack was doing, neighbors and smoke shop patrons would come to my trailer where my daughter and her boyfriend had been living as that was where I had to stay now........ and cry with me. Seneca would press money into my hand. They would tell me that I was part of them, I belonged with them, and to come back ........ and we would cry some more. This was my home; these were my people. My daughter said, "Momma let's go home." She meant Idaho. I did not see that I had a choice. Now I was leaving....... I really loved this man and was devoted to him. And I wasn't good enough for him. What we had built was on MY money. I had put my Idaho home and business into "us". I had sacrificed, suffered to build something together.... now he was giving my life to a Bipolar Meth Head White Trailer Trash 30 years his junior. 70 years old and stealing everything we had struggled to build together for 15 years. By now, I was so done with him, and everything here. I left Oklahoma October 5, 2003. As I was leaving, my friend Blue Bear prophesied that I would be traveling and that I would not need a home for a while... that where ever I landed would be my home. He saw me doing it with the art. (He had also told me that Jack had another woman back in June and I would not believe him then. LOL Guess he was right.) He also said that I belonged to the World. Much of this echoes a reading I got early in 2001, when Cyndy Green said I was for the world and she saw me traveling and lecturing to large groups of people sometime after I was 55. Well I had turned 55 in May of 2003. I wondered then what did I know that anyone would want to listen to? I had made up my mind that no man was worth putting myself in psychiatric care for. And I was determined that I was not going to stay in the emotional state that I left Oklahoma in. I mourned my loss of my life in Oklahoma and then decided that Spirit had something better for me to do or I would not have been jerked out of Oklahoma like this.... It helped.... things turned around and synchronicity began. Right now, all the things I had learned about self-healing I was grateful for. I did not stay down long. In fact, getting over Jack was so easy that now I wonder if I ever was in love with him at all.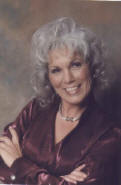 It took a couple of weeks to find a house but we were lucky to find a beautiful three-bedroom, big kitchen, in a subdivision just a few miles from my kids and my mom, with 8 acres for the wolves to run on. While all my belongings were in the U-Haul my daughter invited me to a Psychic party. For my turn the guy told me he saw boxes stacked and furniture. He said in 6 mos. I would move again. One week after getting moved in, my friend and Shaman Ron Wawahsuck moved up and had no place to stay so he rented one of our bedrooms. I had met Ron only hours after I had met Jack. This was a 15-year friendship that had seen him go from a drunk to now a premier medicine man after 10 years of training in Arizona and nine visions quests on top of a mountain in Arizona in 120 degree July weather. I considered him a Shaman. I loved having Ron around. I looked forward to his coming home from work. I had someone I could talk spirit stuff to until late at night. We discovered a lot of similarities. In November the same weekend as the Star of David Alignment and the Moon Eclipse, Harmonic Concordance some call it, but actually Thanksgiving Weekend, Ron did a 4-day medicine sweat for me. It was fantastic. It was like going in from one world and coming out in a whole different world or dimension. I could not wipe the smile off of my face for a long time. It just lifted all of the BS from Jack right off of me, and that BS was considerable. We saw the Iroquois Mind Control Medicine had been used on me since day one. So maybe I really never was in love. LOL. In it Ron saw that everything Jack had stolen from me would be returned. I am still waiting. Divorce court set aside any decision waiting the Judges opinion, and there things still sit. In December, my son James suggested that I go to school because "at my age" I could get paid to do that. (thanks son?) The commitment to stay in school for a certain period of time did not seem like something I wanted to do but I went down and applied anyway. While there the young woman helping me asked "Marcine, what do you really want to do?" Well, I had been thinking about that since leaving Oklahoma and I did not really have an answer. I realized with the relationship in Oklahoma over, I had the whole future to create whatever I wanted my life to be. I found that I had so entrenched myself in what I was doing in Oklahoma that I really had NO idea what that life would be like. I loved my museum, I loved the land, I loved the people, I loved the Indian culture, I loved my "kids". I could not imagine anything better than what I had been living. Now I did not have land, a home, or a business, no relationship, no culture center....... I could do ANYTHING I wanted to do....... and I had no idea what that would be. Suddenly out of my mouth came, "I have this display of the Iroquois Great Laws and I would like to display it and travel with it." She put me in touch with the B.S.U. Culture Center and I had a date in January in connection with the Martin Luther King Jr. Human Rights Celebration. That same month, I lined up several business groups to go visit. The first one I went to was for Business Women in Boise. There I met Curtis Harwell. He was standing by the food and seemed very energetic. We decided to sit at a table and show him my art. Someone sat down at the table with us, and when I looked up it was Midge Woods. I had met Midge years ago (15-17) when I was looking for an art agent. Back then she told me that I did not have enough art and that I should put stories with them. I promptly handed her my book now 3 inches thick with the work I had been doing since I saw her last. Midge became my art agent. The display in January at B.S.U. did not get much ballyhoo, but I got some amazing gifts from it. BSU paid for everything, and I got a copy of the presentation on DVD. I also got to have dinner with Naomi Tutu, the daughter of Desmond Tutu of South Africa. They had a dinner raffle and I put my name in but did not win. A man came into the room where my exhibit was and said he was going to the dinner with Naomi as he had won it. I said oh how I had wanted to do that. And he said his girlfriend and him got into it and she was not going would I like to go with him. I said yes and ended up sitting next to her at dinner and getting her to sign her book on her dad. BSU also printed up brochures for me and sent them out. Disappointingly, nothing to further the B.S.U. event happened however. This month Ron found a girlfriend and moved out. One of my "teachers", Frank Jordan, upon seeing my presentation announced that it must go on tour. He gave it the name January, I was looking for information on the Peacemaker. Up came a site amidst all the Dekaniwida sites for Hayenwatha. I thought that strange and followed the link. Andree Morgana channels Hayenwatha at Mt. Shasta, California. I emailed her several times and decided she was sincere in her belief. In the mean time she looked at my site and emailed a notice to David Yarrow in New York whom she had met when doing a Hayenwentha incorporation at Lake Onondaga. David looked at my site and emailed me: "Thank you for your efforts to honor and uplift the work of the Peacemaker to establish a peace that will prevail on earth. It is time to raise that legacy to a higher standard of global public visibility and your art is a majestic vehicle to bring this about." I thought, "He knows. He knows". We emailed back and forth and in February. David extended to me an invitation to come to New York where he would put my art on tour to advertise his International Onondaga Lake Peace Festival the fall of 2004, October 11 at Onondaga Lake. I would put my art on display and tell the story of the Haudenosaunee Peacemaker. I had nothing else to do...... so why not? David's spiritual capacity is wonderful and he is a genius. We spent hours on the phone. There was always some new aspect to talk about. There was too much to get ready and things that had to be done. Besides the fact that I had not any money to go on. I got a promotion CD done, a new website with shopping cart, bought a matt cutter and matted up a lot of prints. My Taurus had been blindsided by a pickup with no brakes as I sat on Seneca street, and totaled soon after getting to Boise so my sister even gave me a car, but by the time I left, another one that was bigger and hold more became available. And when I left, it was loaded to the hilt and then I added 17 solid wood frames to the roof top in Oklahoma. Anyway, I finally managed to sell some art that would give me the $ to get to New York.