SUMMER 2005
---
National Dowsers Association Conference June 10,11,12Lyndonville, Vermont
---
National Dowsers Association Conference
June 10,11,12
Lyndonville, Vermont Last year, this was a phenomenal venue as Dowsers or water witchers have taken the 6th sense to all new levels including healing. All kinds of new healing inventions were seen. And the best part for me was the very first presentation given by David and me together got a standing ovation.... a long standing ovation by the constituents of our seated listeners. I was looking forward to doing it again this year, and Friday night, introduced my subject as the "Peace Virus" lady last year. People would remember me and I was hoping to renew acquaintances all though in some trepidation of what we could do after a standing ovation as an encore. Well this did not turn out as anticipated. While setting up the display, I fell and broke L2 in my back and got to stay in a hospital for a week flat on my back, and then wear a body brace for the duration of the summer. It's sort of a funny story actually. I fell at 8:30 in the morning and told at least 6 people standing over me as I was laying on my back on the wet side walk from the morning rain, to tell David Yarrow that he would have to do my presentation at 1:00 PM... David set up for the presentation and waited...... and waited.... and waited. My time to do my presentation went by and I still was not there. In the meantime, I had called my daughter in Idaho to get a hold of my teacher, friend, and healer Frank Jordon. Frank was on the Board of Directors for the Dowsers but had not come to the conference. I asked for his healing energy but then he called Tippy's husband and told him about my accident and so then Tippy's husband called Tippy and that is how they found out where I had disappeared too... By now it was supper time and David was getting ready to call the police and file a missing person's report. As my sacred guardian, and responsible for my welfare while in the northeast, David was getting frantic. The hospital in Vermont shipped me out to one in New Hampshire, an hour away, where they had special equipment and evidently one of the best neuro hospitals in the country.... the doctor explained that the way L2 was broken from a simple fall, they wanted to check for osteoporosis, or cancer, or degenerative bone disease, or some reason for the 80% disintegration of L5. However, they found none, and as soon as they fitted me for the brace, I was released to my own reconnaissance. I didn't dare tell them that I was standing when an unseen force tackled me at knee height sending me flying through the air feet first, as I was still hanging onto the handles of the handcart behind me, twisting around in the air where a loud pop warned of broken something before I even hit the ground some 4-5 feet from where I was standing. Explain that!!!!! Mighty big gust of wind do you suppose????? Or did the college have a resident ghost that decided it didn't like me????? Or the fact that I had stopped by Oklahoma for court which had been canceled by Jack, and had run into Jack at the Miami Pow wow exactly 7 days ago have anything to do with the black faced long haired Indian spirit that had thrown me. At least 20 people told David that it was a psychic attack. By the way, the college says it is not at fault, so there is no liability insurance to cover medical costs. Gee would a college ghost make the college liable???? Interesting question but I don't think one could go to the bank on it.
---
| | | |
| --- | --- | --- |
| | | |
| Owl Woman came to visit. Her visit was way too short. | Tippy Hedron, organizer of the convention took me in for several days after my release from the hospital. | One of my pretty nurses with a pretty name but I can't remember it now. |
---
Saint Marie Among the Iroquois
JULY
Exhibit of 21 Originals of the Epic Journey of the Peacemaker
Onondaga Lake, Syracuse, NY EXTENDED THROUGH AUGUST AND SEPTEMBER Storytelling July 3-4 and July 30-31 The museum is newly opened and staffed totally through volunteers. They have 16th century mission and do living history there during the summer. Everything is built the old way with a blacksmith that even makes all the hardware by hand. The furniture is made by hand, and several gardens are actually growing flowers, herbs, and food. Everyone here is nice people. Arny took special pains, like the whole day to hang my art. He made sure that they were straight across the top. The volunteers of the museum were my biggest supporters. The first storytelling was within a week of getting out of the hospital from my broken back... I tired easily and was ready to leave when the storytelling was done. Great people to work with and if I lived in Syracuse, I would become a volunteer. I love living history and this would be fun.
---
| | | |
| --- | --- | --- |
| | | |
| Originals on display at St. Marie Among the Iroquois in Syracuse, New York on the shores of Onondaga Lake. | Storytelling and into the story.... same weekend as released from the hospital and am wearing the body brace. LOL | My personal Iroquois clothes and beadwork on display |
| | |
| --- | --- |
| | |
| The passion of Onondaga Legends retold to Cindy, Jake Rogers, Julia Roskind, Toni, and Abaja. | Arny Palmer, John Lueb, Gordon Palmer, Lee Miller with Me. |
---
One Love Concerts preceding the Festival
Featuring Abaja touring with Julia and Robert Roskind
| | | |
| --- | --- | --- |
| | | |
| ONE LOVE CONCERTS | ABAJA | GATHERING OF HEALERS |
---
Abaja came in from Jamaica with his road manager Antoni. He had been doing the One Love Concerts in Jamaica with Robert and Julia Roskind for the Healing of the Nations working with the healers of Jamaica and the Clan Mothers to stop the violence and killing in the streets there. Significant progress led them to begin the concerts in the states where they have performed for Hopi Nation, and the Hava Supi in the Grand Canyon. Having Abaja and the crew for the prelude to the Peace Festival was fantastic. Not a fan of Raggea music, I watched as Abaja poured out his energy where there were 6 or 600 in the audience. He obviously believes his message of One Love and is a great ambassador for that purpose. He was lined up with 7 street concerts, one behind bars, and by Onondaga Lake Peace Festival time was pretty wore out and yet still performed each day for us. Thank You Abaja and Antoni. Thank you Robert and Julia for making this possible. By the way Reggea has a nice bounce to it. LOL
| | | |
| --- | --- | --- |
| | | |
| Abaja at the Mic | Children listening raptly | Student participation |
---
Hughes School
Toni, Road Manager
| | | |
| --- | --- | --- |
| | | |
| children at the school | Teacher helping out | Finale with the Roskinds |
---
Roesler Park
My display of canvas story
Peace Pole
Robert Roskind
Shadia Shahin at the mic
Ashley Cox and the band
spectators
Abaja and Ashley with the band.
---
Onondaga International Peace Festival
July 23-24-25
Onondaga Lake, Liverpool Park, Syracuse, NY I got to tell the story of the Peacemaker's Journey 3 times on Saturday and 3 times on Sunday. And then David arranged for me to be on central microphone for a story, and a prayer. The festival attracted healers so the energy was just vibrant. Momma Earth blessed us with the most perfect weekend ever. The humid sultriness of the previous weeks was absent, and it was just wonderful. It was like Momma knew that event was for her healing and she was giving us her best shot. Thank you Thank you Momma Earth for your help. My display was at the top of the hill and the energy floated up from the amphitheater with a Utopian high that I wished could never end. From the view of a participant not privy to the behind the scenes stuff, I thought this the best event I had ever been to. With my broken back, I had not been of much help to David with the organizing so I was oblivious to concerns and situations that always accompany organizing events. I just floated along in complete peace, love, and cool stuff Memorable events for me was an Old Testament Rap Song by Jewish. He had a presence and a sense of humor that was marvelous. A beautiful Channeled song of the Lady of the Lake, and time to visit with other campers and vendors.... and of course great music all day long... and dancing.
---
| | | |
| --- | --- | --- |
| | | |
| On the hill. | On the edge of the hill | Looking down into the Amphitheater. |
---
Mark setting up sound.
One of our Venues.
---
International Water Day
July 25
Proclaimed by Masaru Emoto
1:00 PM Willow Bay
7:00PM Butterfly Garden
on the shores of Onondaga Lake, Syracuse, NY
---
| | | |
| --- | --- | --- |
| | Master James Ayotta provided the ceremony for Willow Bay International Water Day. He brought his singing bowls along with beautiful words to remind us of water and to bless this part of Onondaga Lake. Part of the water was saved from the Peace Festival and poured into the Lake with new prayers added along with other symbolic items such as salt which Onondaga Lake was famous for. | |
---
Spiritual Family
Toronto, Canada
---
NOFA National Organic Farming Association
August 11-13 Fri, Sat, Sun
Hampshire College in Amherst, MA. Weather was hot and sultry for Massachusetts. David had a presentation on Friday and we got there 15 minutes late. I sat in and it was spectacular again even tho it must have been the 12th time I had heard it. It was too late to set up my display. They had a country dance but it did not go over as well as the Contra Dance last year but after the dance and a few beers, David set up at 1;AM in the dark anyway and my display got only half way up. He kinda forgot a key element to putting it up and there was no way to fix it with my back like it is. For the first day, people past me by like I was invisible... not to expect much more when at a new venue. I met very few people last year and so it was reflected in this first day. Got a quick rain shower Saturday afternoon and had to hurry to put my stuff away since the set up hand no cover. Saturday nite however Julie Arranged for me to tell the story around the campfire and I had about 60 people throughout the night. Many were children. They came and some left but then more came again and there was a pretty good crowd all evening. I was competing with the Cajun Dance at the Barn so I felt that I had drawn pretty well for my little story telling gig. After story telling, I found David at the Cajun Dance and watched the dancing until the Barn closed down and then we still sat and talked to people. Finally, we headed back to the van, and I got a much needed shower and a good sleep. Next day, Sunday, people came by to tell me how much they enjoyed the story and how much fun it was around the campfire. I did my workshop at 1-3, for 8 people and then hurried back to put things away before another shower dumped on things. I could hear Mother rolling her thunder about and I kept praying she would let me get everything put away first... just as the last of the art got put into the van, down came the rain and it rained and it rained. David got busy teaching dowsing to three people under the big tent after we had parked the van in there and rearranged the hastily put away art and tables. Some good people said they hoped I would make it back next year... they said that NOFA should have had this story along time ago... it is so very important. David did a workshop on soil re-mineralization and I hear it was great, and then he did a dowsing workshop for the youth on Sunday. He had organized the first NOFA 21 years ago and so he knew a whole lot of people.... being connected with him was not a bad thing as it seems people recognize his dedication to the cause and consider him a guru of sorts... one with wisdom but not necessarily a following. If people truly understood what David goes through in order to live what he preaches, he would most definitely be revered. He has made huge personal sacrifices and pushed relentlessly in a body that is a constant challenge.
| | | |
| --- | --- | --- |
| | | |
| David arriving at Amherst, Massachusetts. | Getting something to eat. | Farmers Market |
| | | |
| --- | --- | --- |
| | | |
| Newly Weds Mr. and Mrs. Dan Kettredge | Oreo Cookie Heifer | David pitching his Sea Salt Minerals at the Big Tent |
| | | |
| --- | --- | --- |
| | | |
| Pie Eating Contest | Trick Riding | Me, tired, hot, and frustrated with events. |
---
Bones and Stones Gathering
September 10-11
Skate the Planet
1844 East Main Street
Waterbury, Connecticut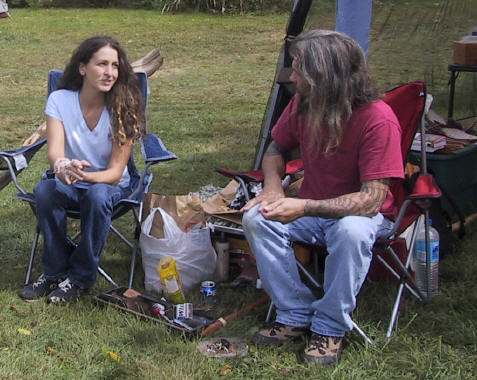 ---
One World Peace Festival
September 17-18
Armenia, NY
Schaghticoke Nation
Jun Sun arrives with Peace Walkers.
Schaghticoke Nation
Walkers visit my exhibit
Jun Sun and Jake Swamp at my exhibit with Peace Pole
Music Stage
Aztec Dancers
Flags of Many Nations
Patch Adams
Aztec Dancers
Stilt Clowns
---
International Peace Day
September 21
NY
---
Native American Heritage Week
at Bergen Community College
September 25-30
400 Paramus Road , Paramus, New Jersey 07652
| | | |
| --- | --- | --- |
| | | |
| Olympic Gold Medalist | Three Little Indians? | Indian Joe |
---
Grafton Peace Pagoda
October 1
12th Anniversary
Celebration Tree of Peace planting by Jake Swamp
---
Manatanka Fall Gathering Hot Springs, Arkansas No pictures as camera quit working I had gotten my body brace off just days before heading to New Jersey. Now On the way to Manatanka, my daughter called me. We had dropped our wolves off with Lynn Windwalker as we had no place to keep them in Idaho. Now my daughter called bawling over the phone. She had a dream of Lobo running in a meadow of flowers. It left her bereft. I promised that Sunday when I left Manatanka, I would swing through there and get them. Sunday as I was leaving Hotsprings, Bebe called me. She was in Oklahoma with the wolves. She had hopped a plane and flown there and just in the nick of time. Lobo had gotten into a fight with one of the other male wolves and was filled with infection. He was hanging on until she could get to him. By the time I got there, Lobo looked well on the way to mending. Prior to this incident, Lobo and his mate Honey were quite aloof putting up with humans. After this, they loved us, putting their arms around us, kissing us, and making quite a fit over us. So now we were all headed back to Idaho.