Leonard "Catfish" Smith
---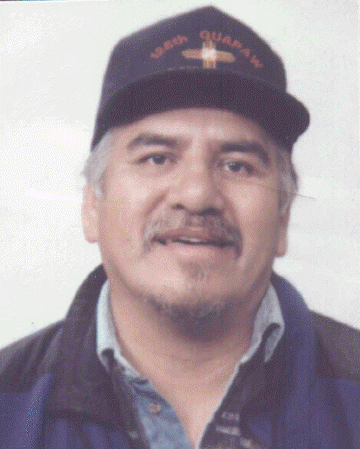 Leonard Martin Smith, son of Martin Smith and Maude Quapaw Smith "Auntie Maude" was born March 21, 1954 at Claremore Indian Hospital weighting in at 8 pounds 12 ounces.
He is of Seneca Cayuga, Miami and Quapaw Indian Descent.
Leonard attended school at Quapaw, Ok. and has had many years of learning "Indian ways" from Uncle Jim Quapaw, Uncle Ed Quapaw and his mother. He also gained much knowledge from Granny Bear and Aunt Ceal and many other elders who were willing to give to him their time and knowledge.
Leonard would like to pass this on to all younger people wanting to know and learn their ways. He wants to keep the "Indian Ways" and is trying to encourage and teach anyone and everyone wanting to learn.
Leonard has been involved in the past with the Seneca Cayuga and was chairman of the Quapaw Tribe. He is now President of Painted Horse War Dance Society.
Leonard has much respect for his father who passed away when he was a young man but he taught Leonard many things about hunting, fishing, and survival by living from the land. He also told Leonard many things about the future that have come to pass.
Leonard has two sisters Dorie Skye who has three children, Susie, Darren, and Aaron and their children; another sister, Lee Teehee, her Husband Leroy and their son Gary; one brother, Harry Smith, his wife Debbie and their two daughters, June and Samantha.
Leonard has been married to his soul mate, Inola "Dusty" for 25 years. They have a daughter Ashlee and son-in-law Steve Strickland. In September, 1999, Leonard will be known as "Grandpa" Leonard.